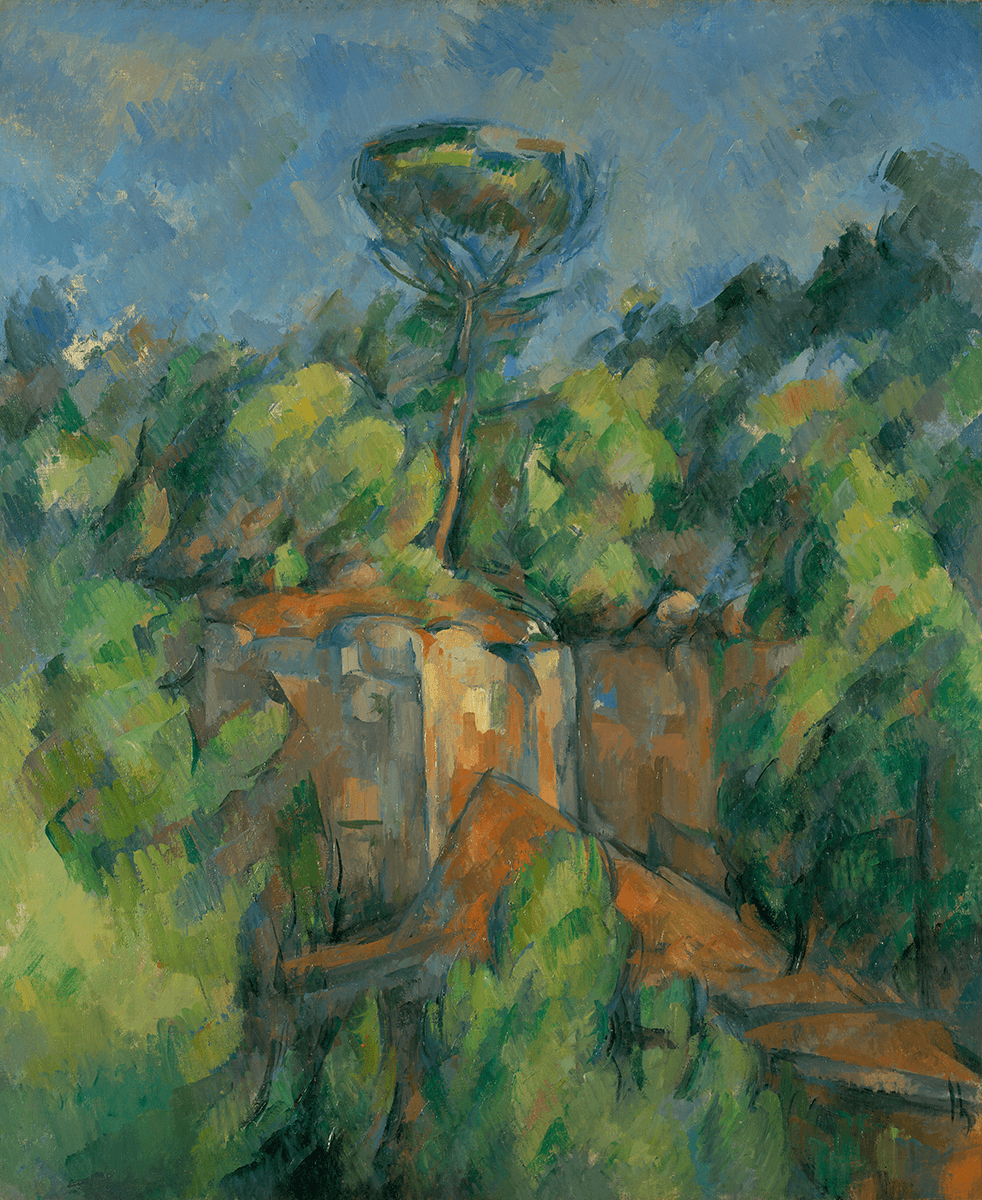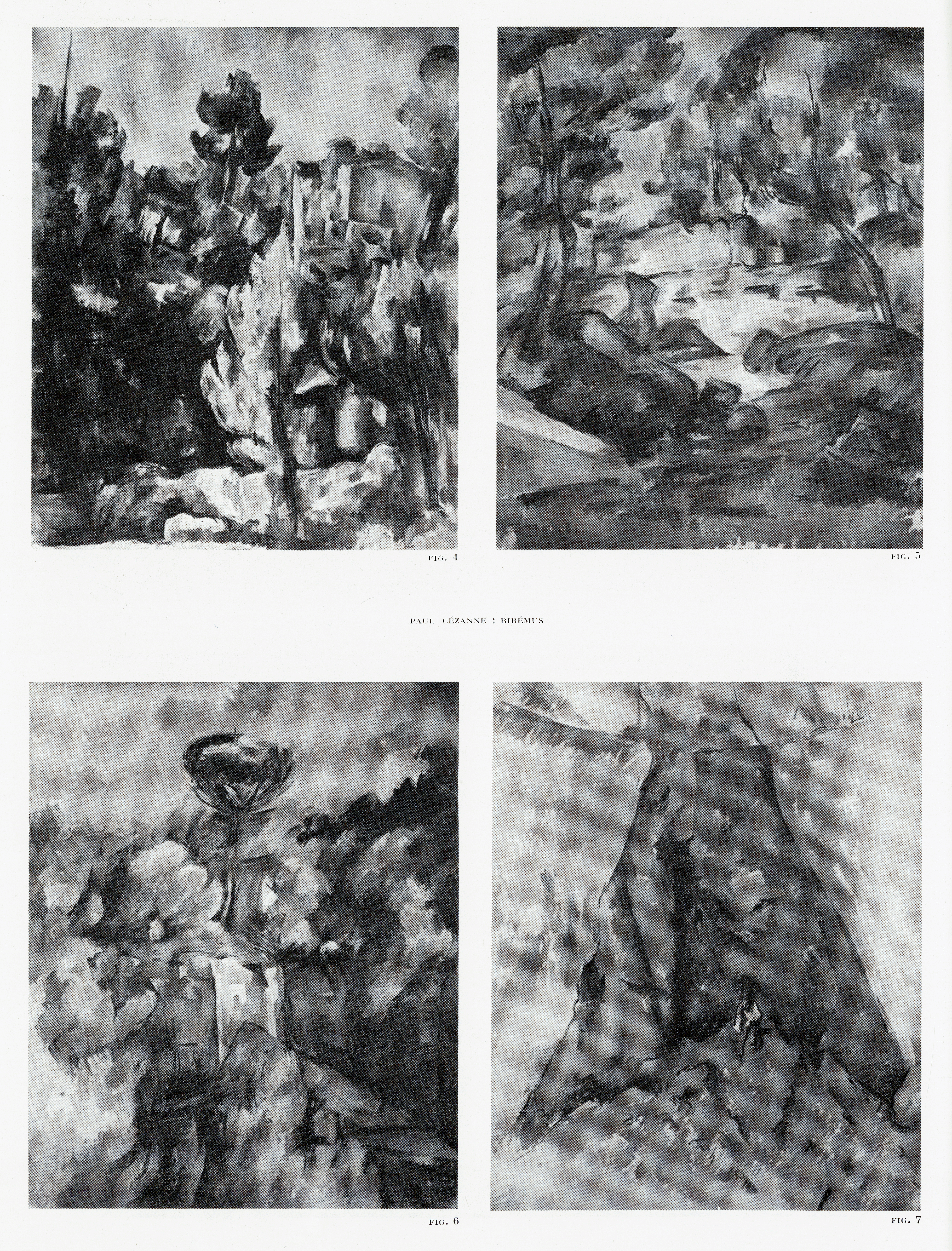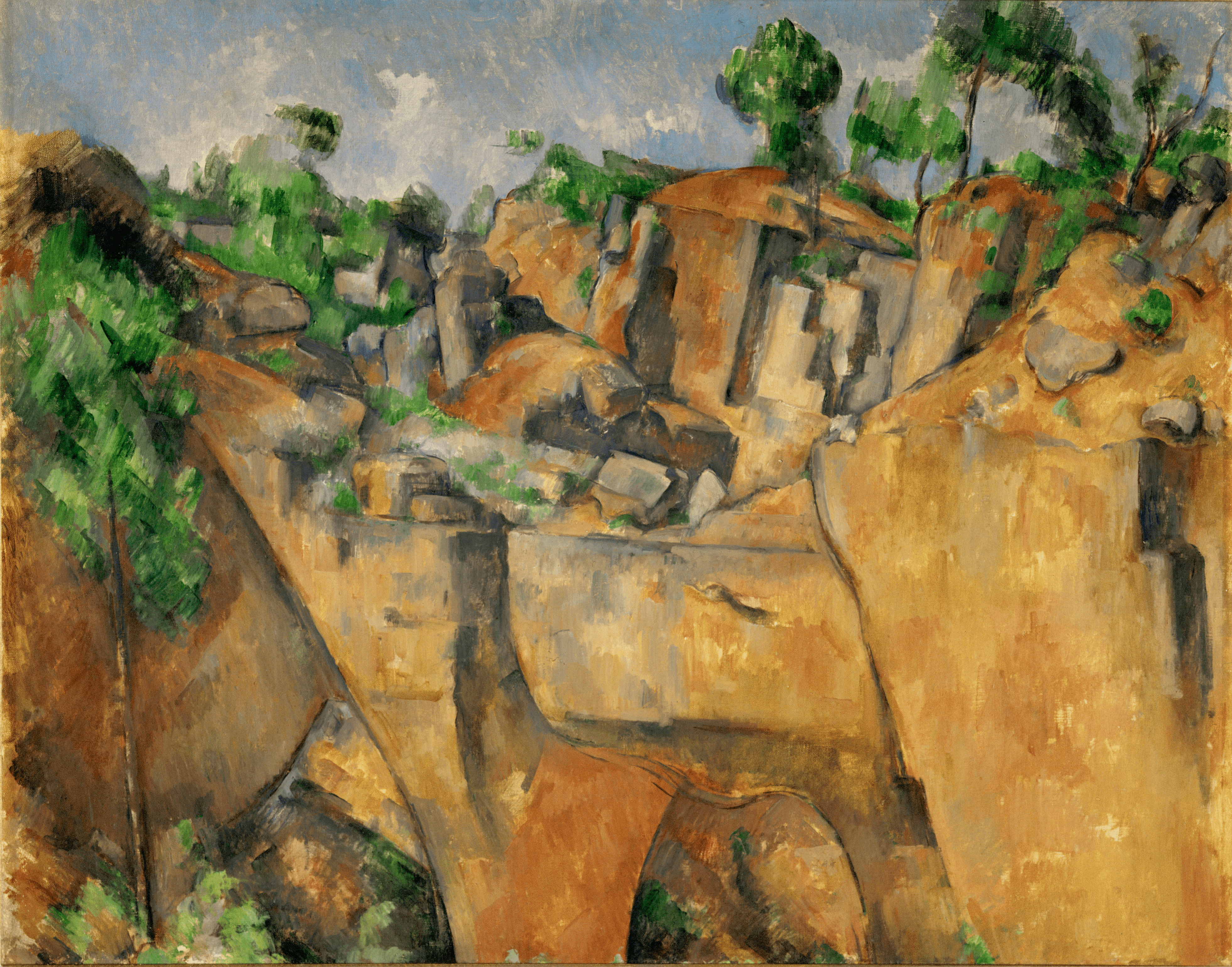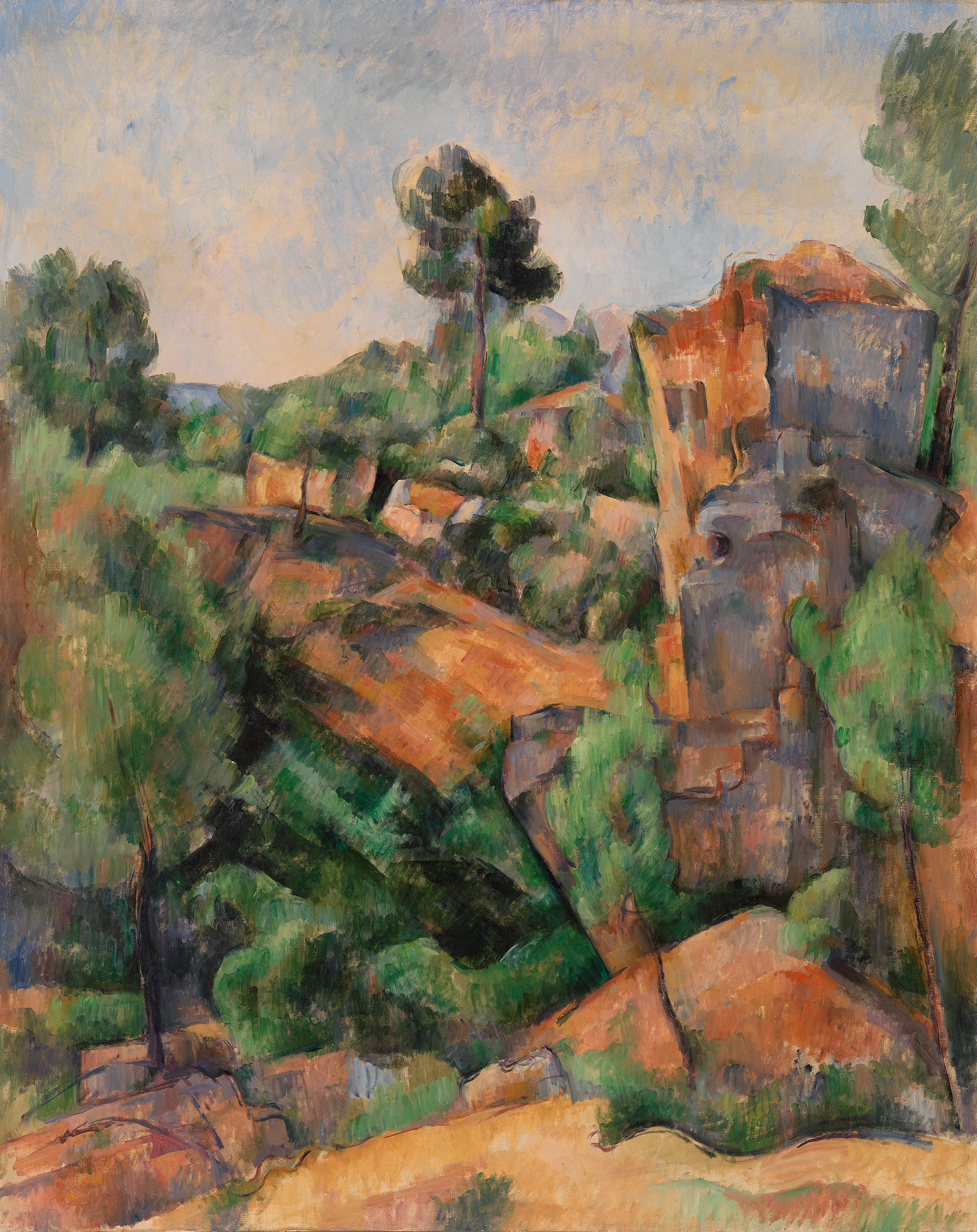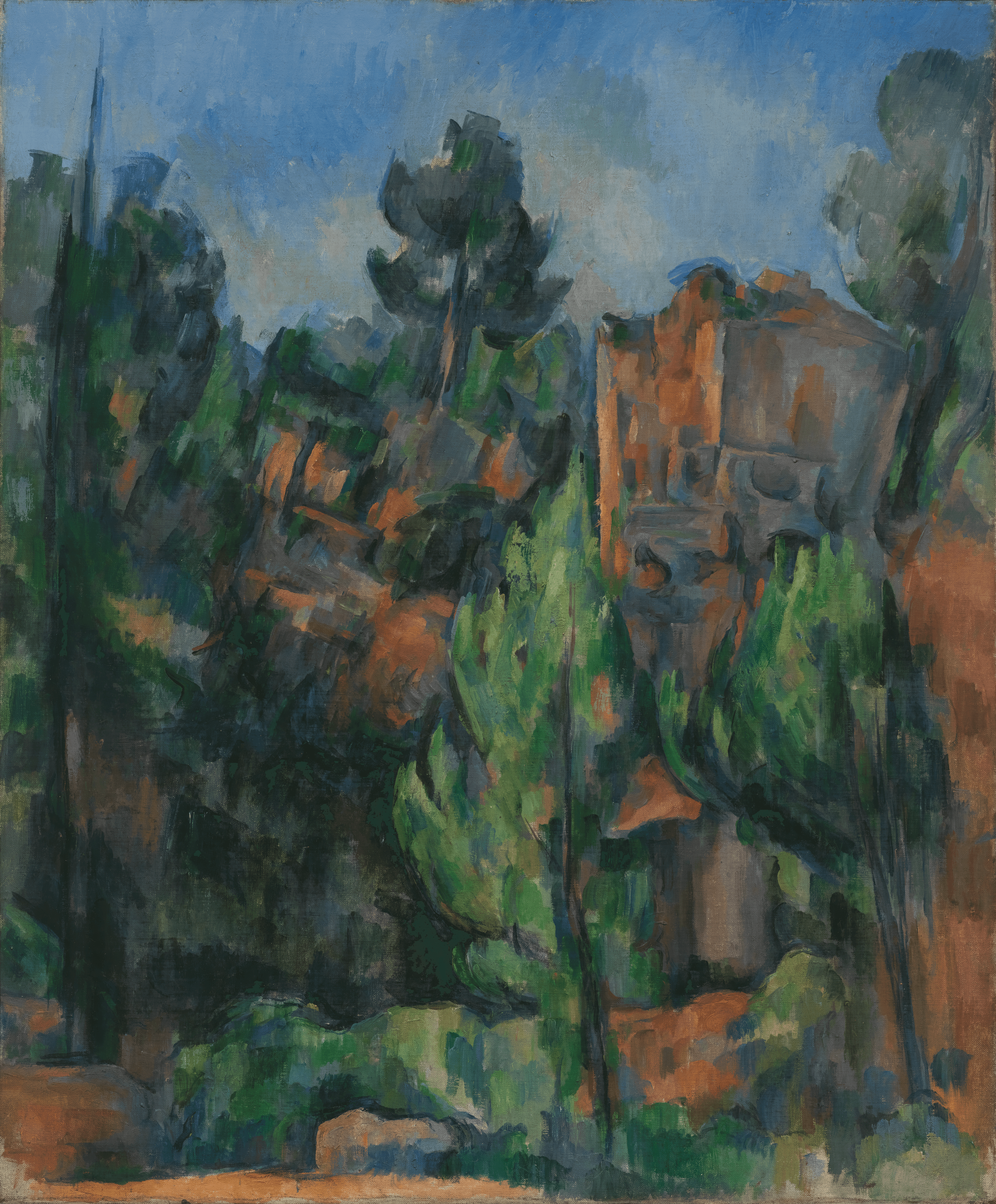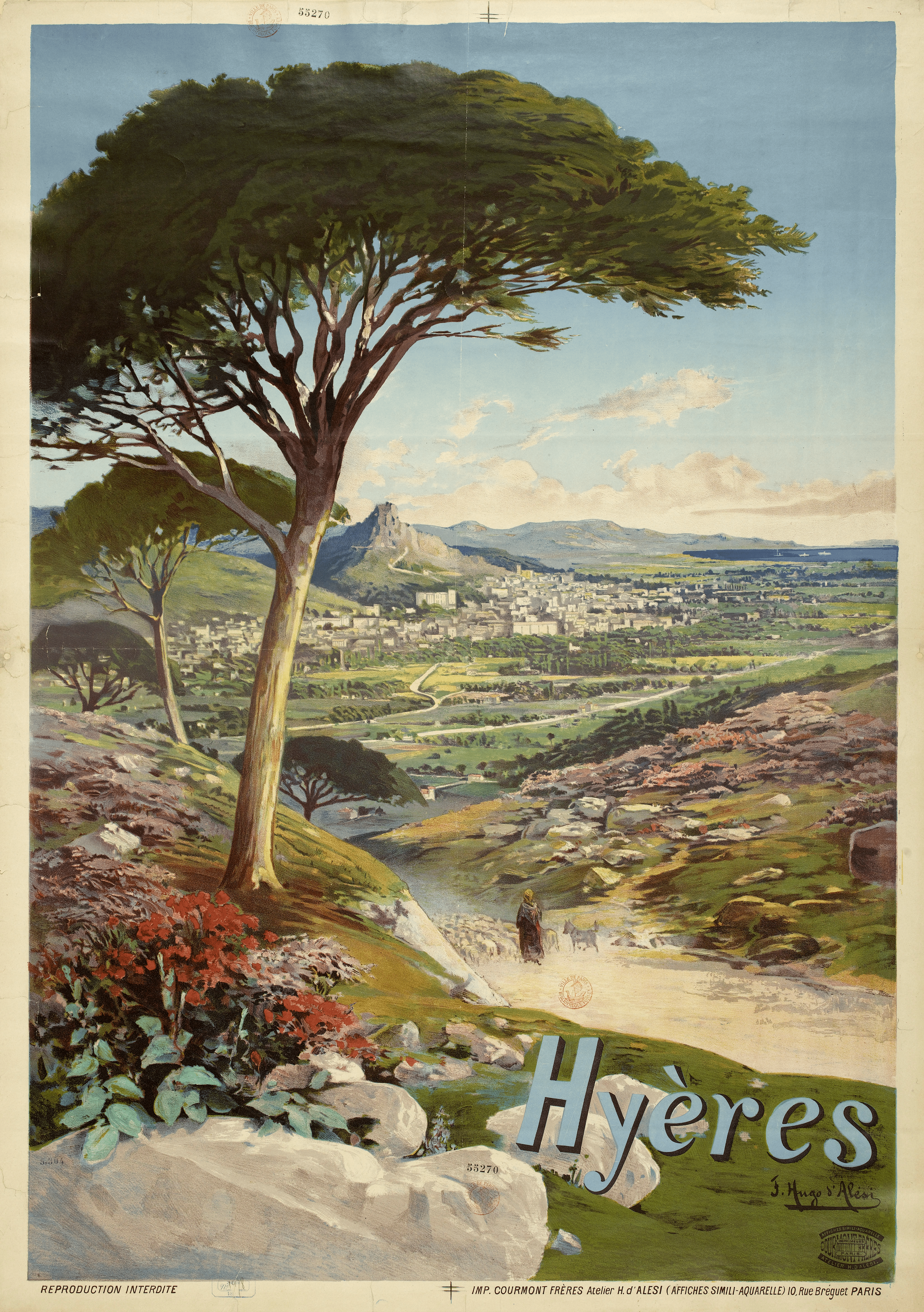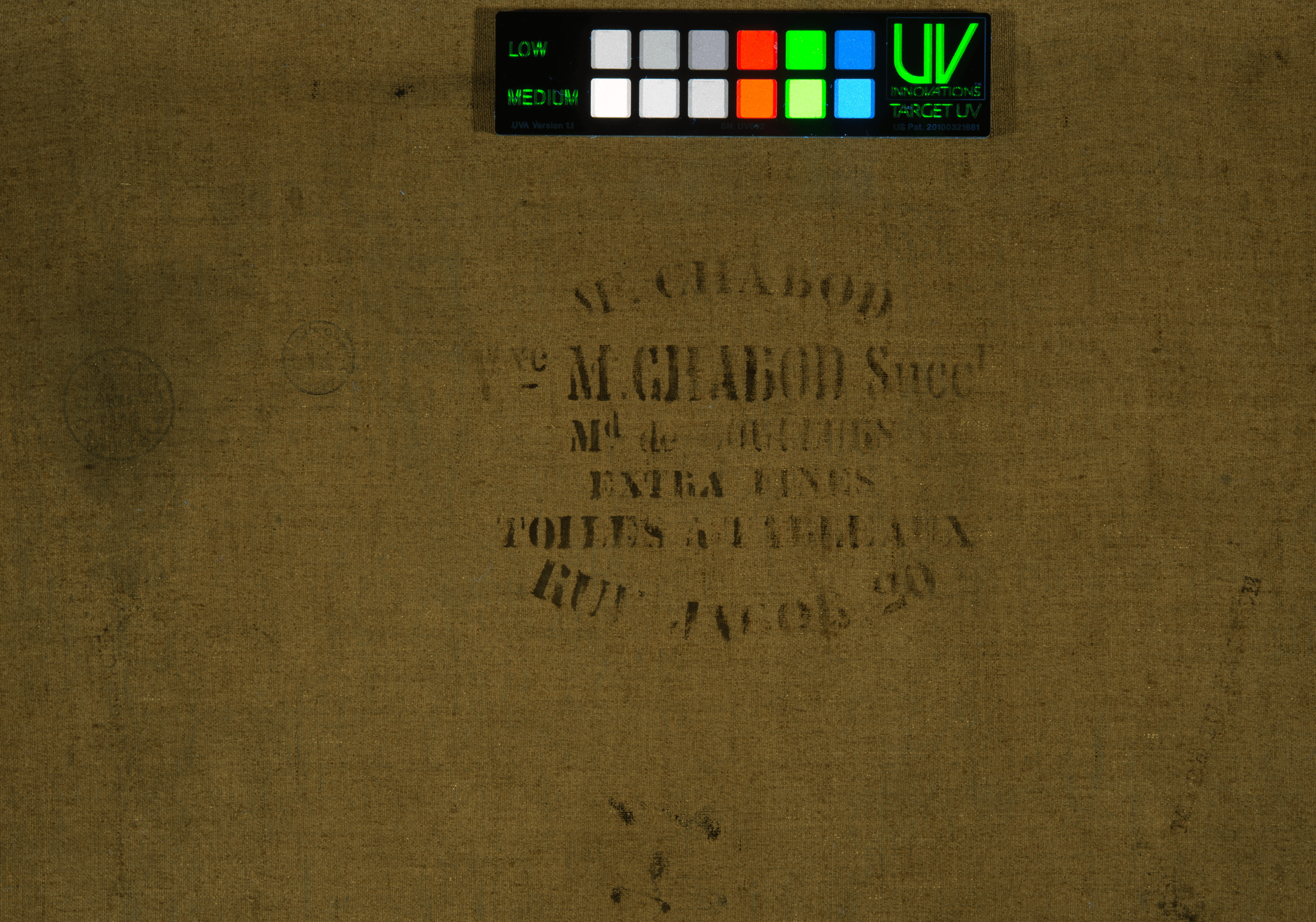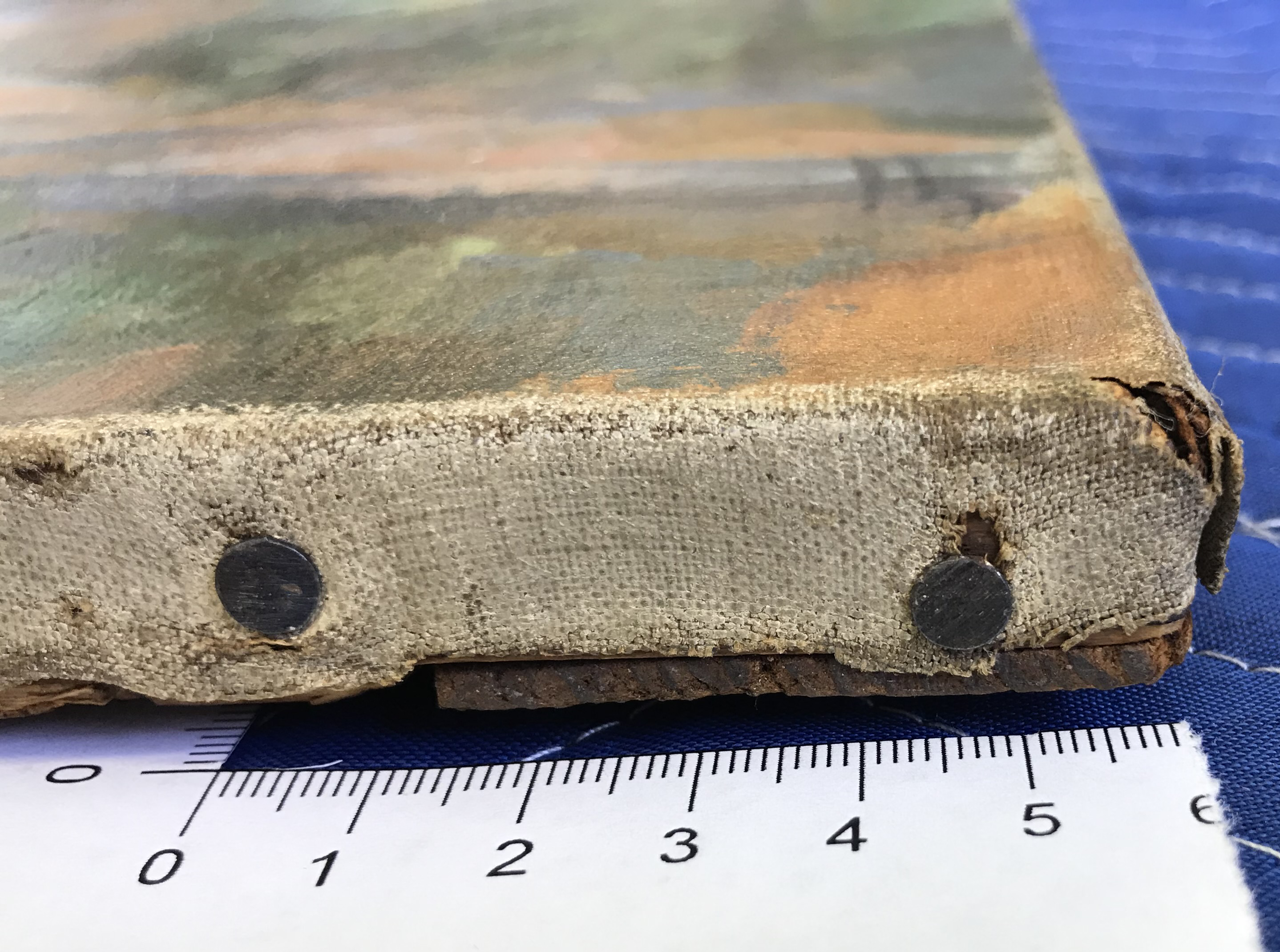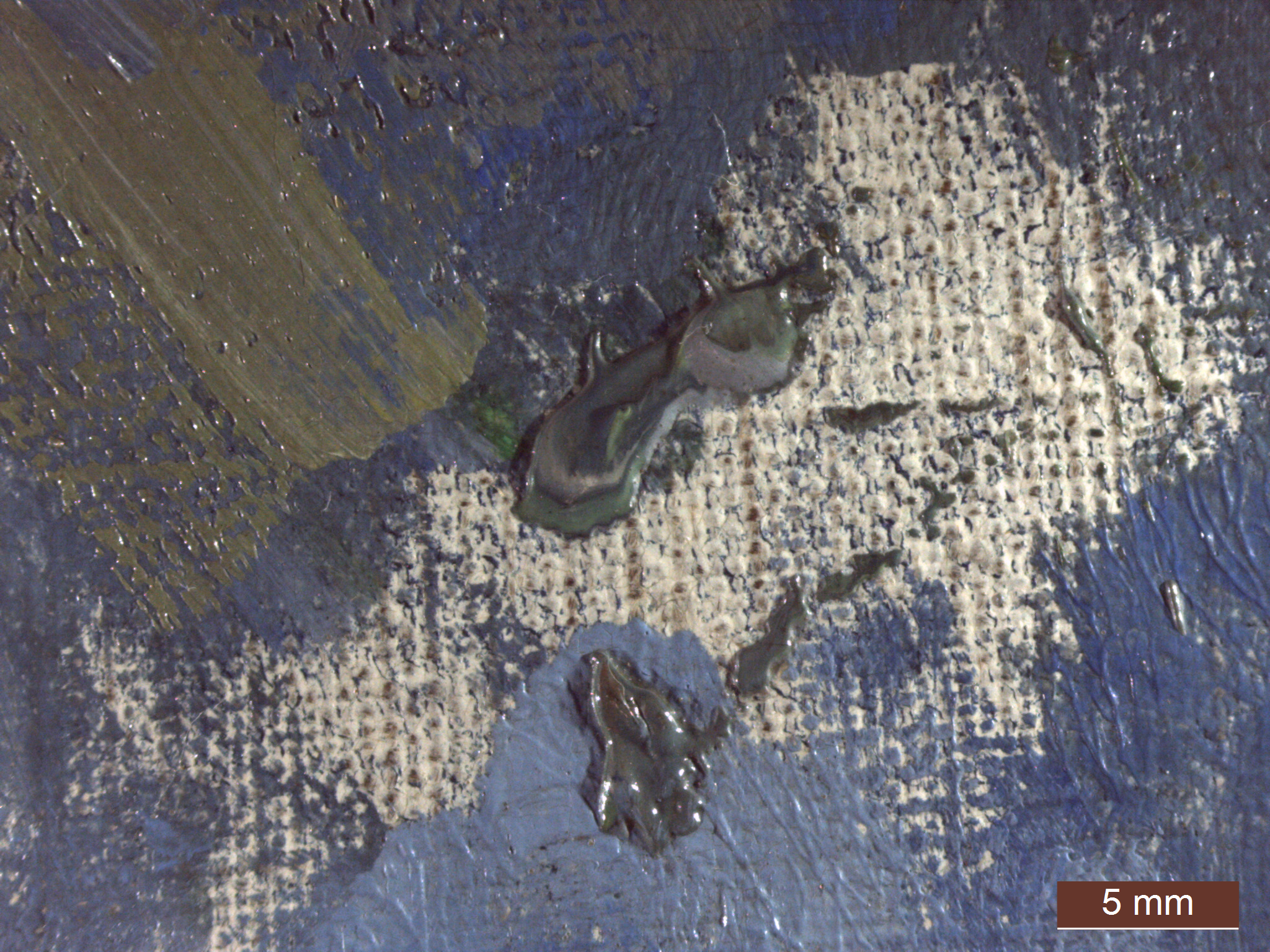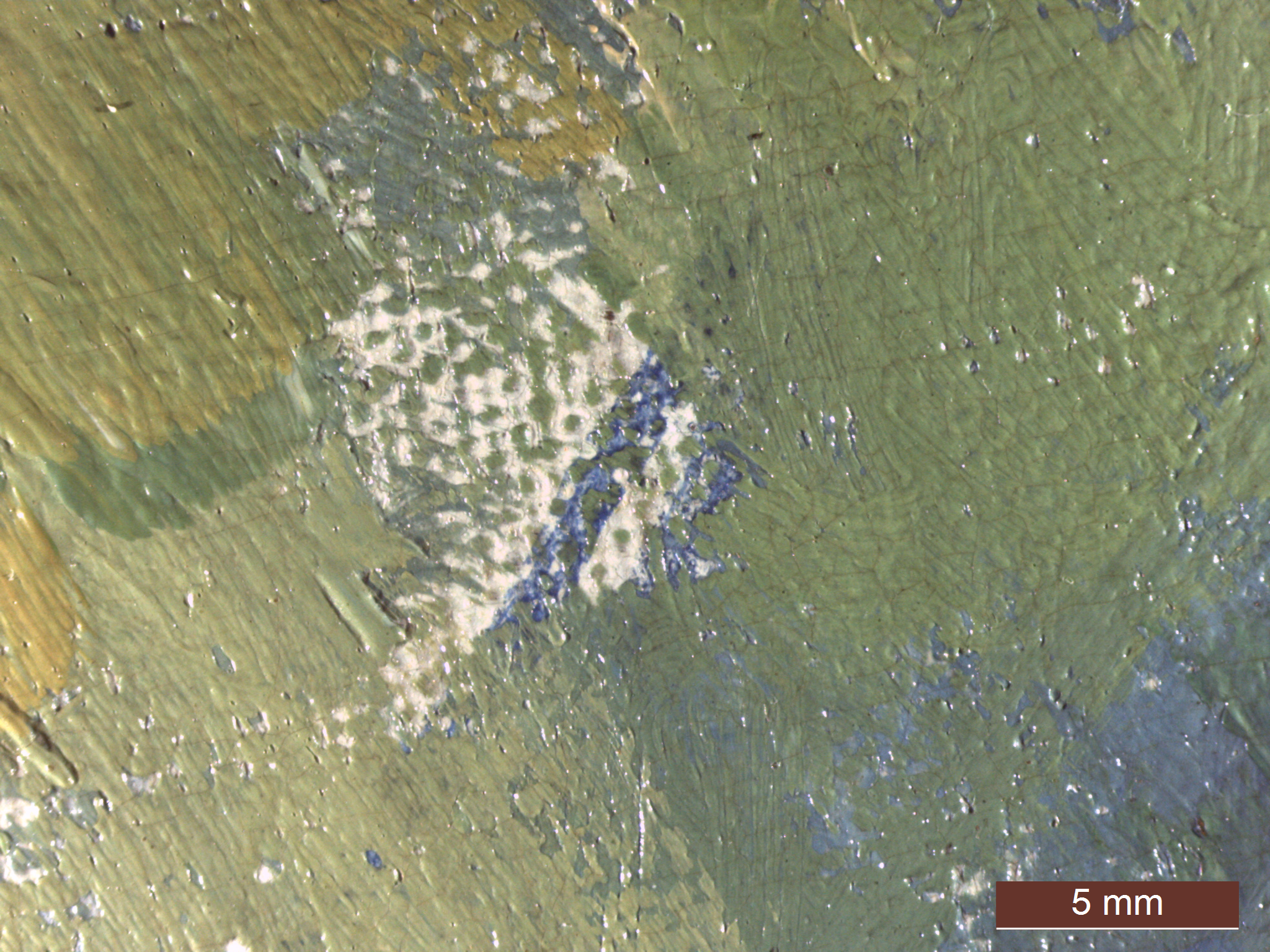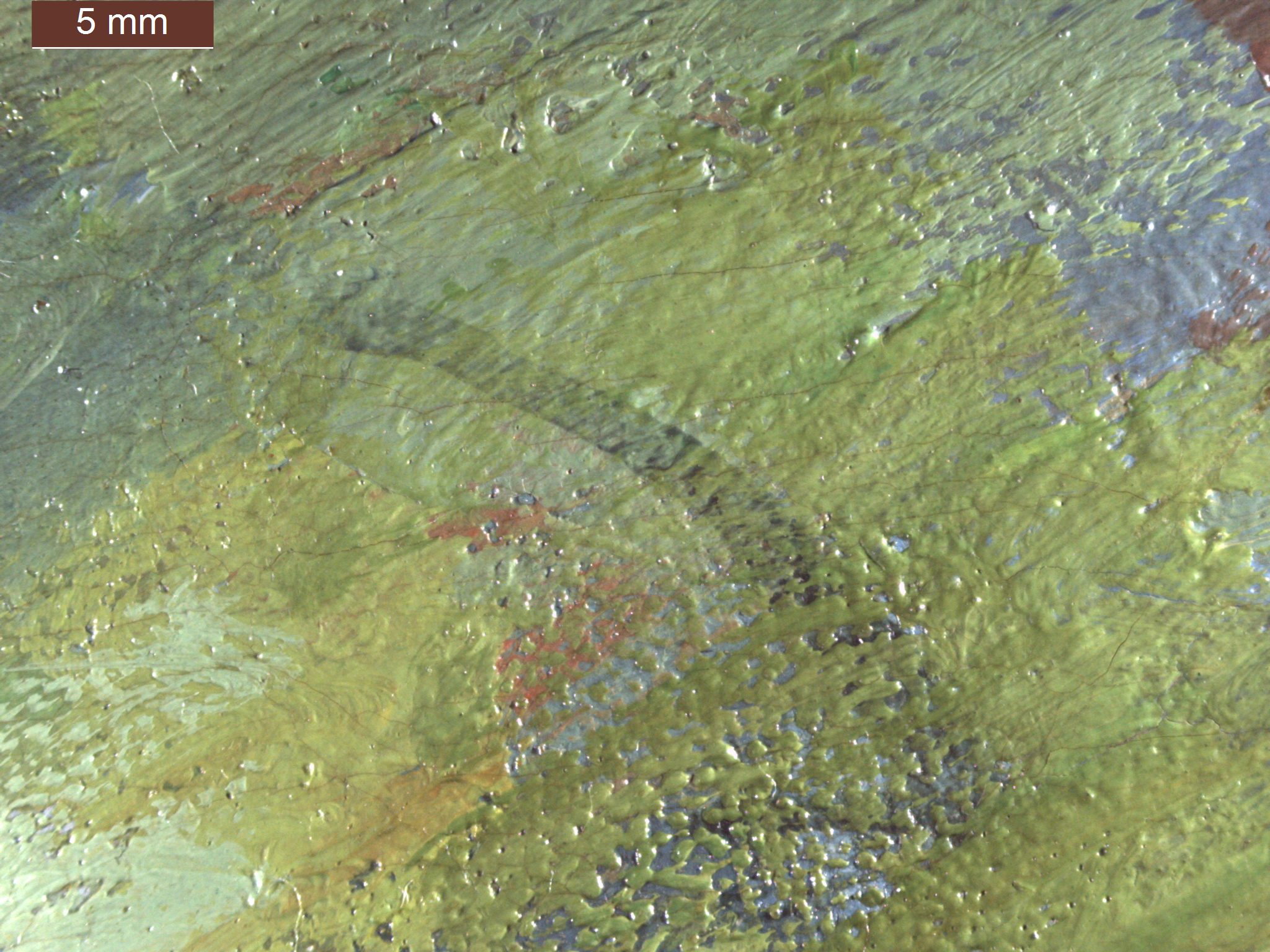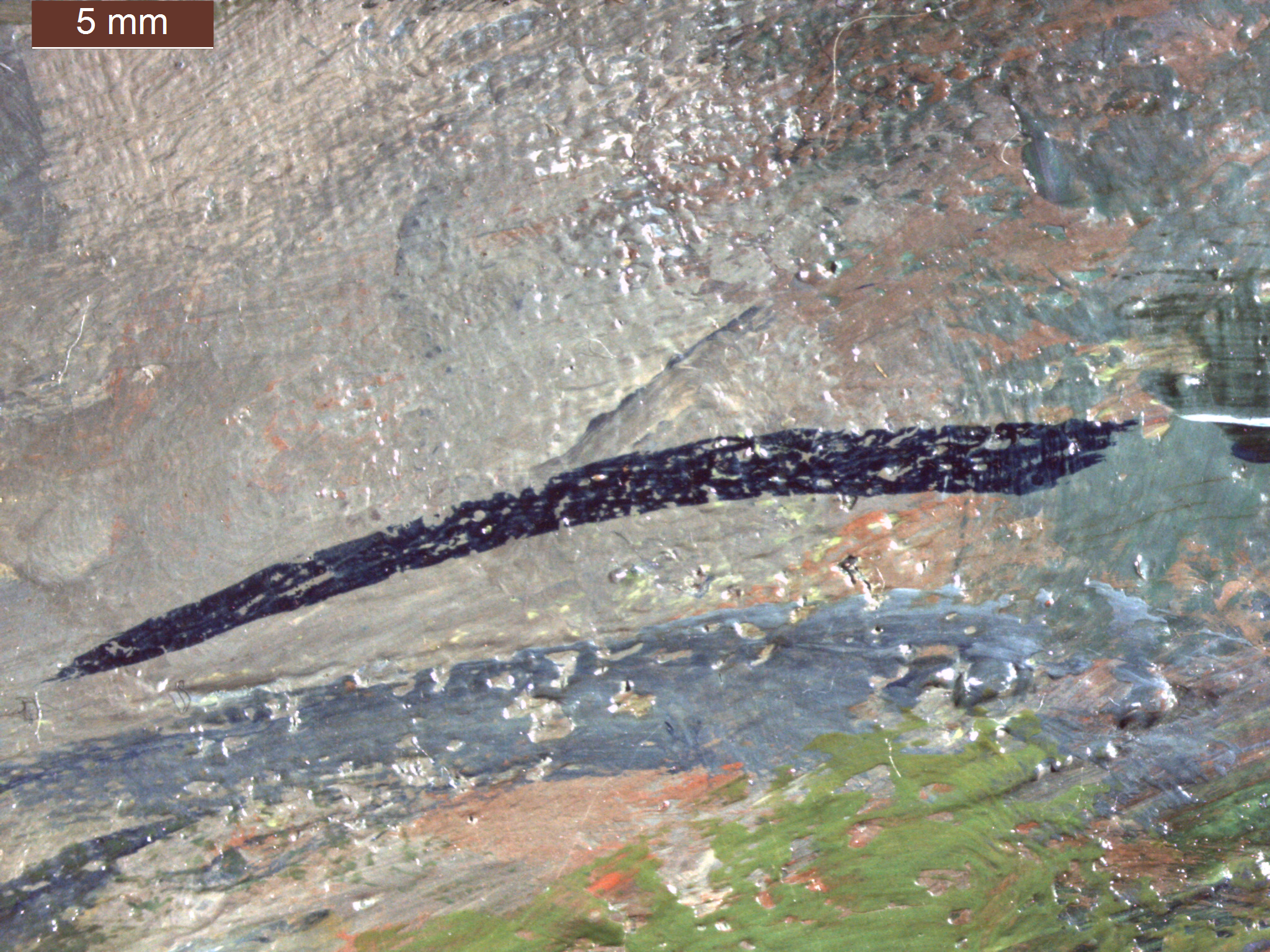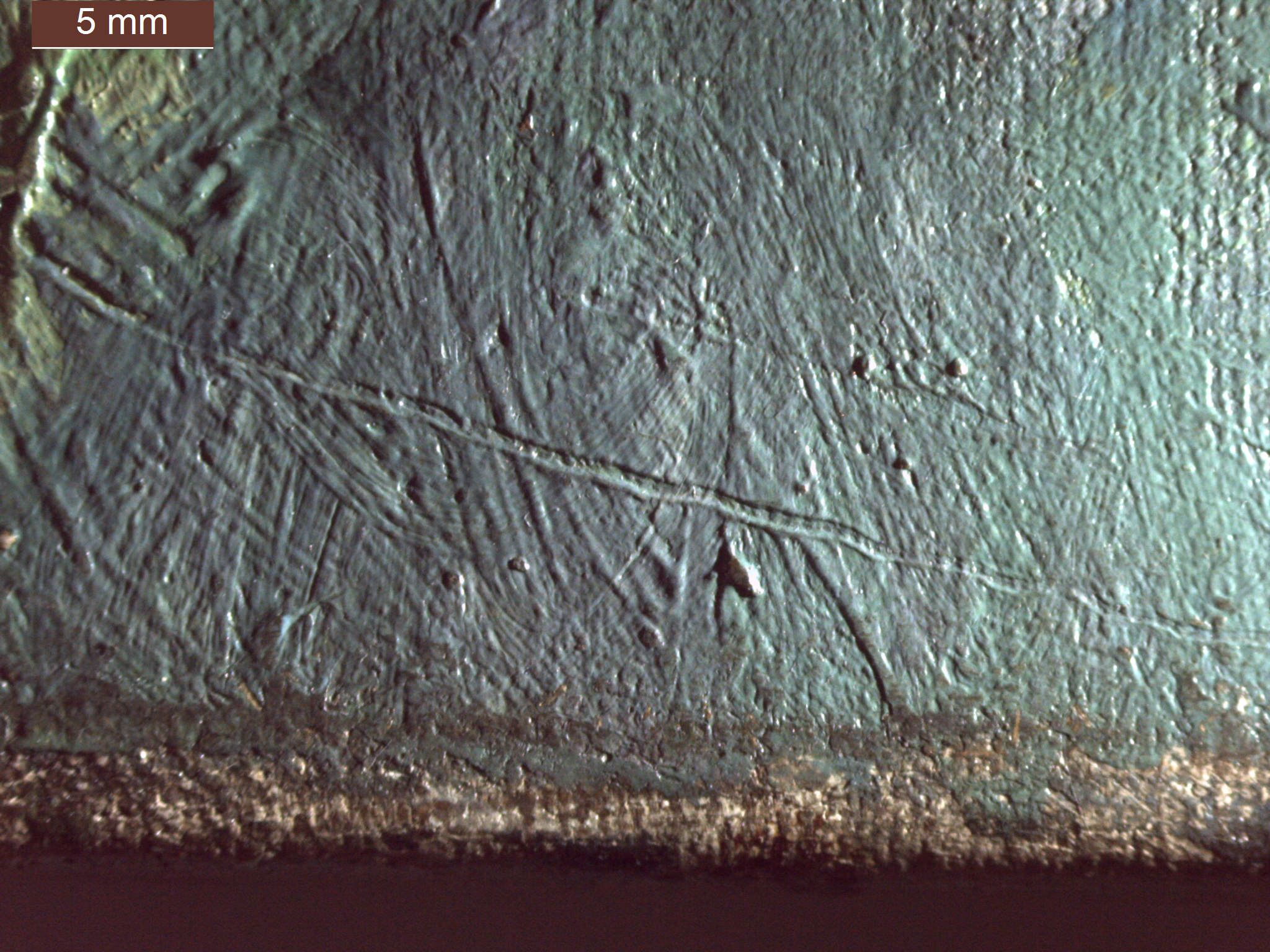 Resize view
Paul Cezanne, Quarry at Bibémus, 1895–1900
Download PDF Share

doi: 10.37764/78973.5.710

| | |
| --- | --- |
| Artist | Paul Cezanne, French, 1839–1906 |
| Title | Quarry at Bibémus |
| Object Date | 1895-1900 |
| Alternate and Variant Titles | Carrière de Bibémus; Rochers rouges surmontés d'un arbre un peu parasol |
| Medium | Oil on canvas |
| Dimensions (Unframed) | 25 3/4 x 21 1/2 in. (65.4 x 54.6 cm) |
| Credit Line | The Nelson-Atkins Museum of Art. Gift of Henry W. and Marion H. Bloch, 2015.13.7 |
Catalogue Entry

Citation


Chicago:

Brigid M. Boyle, "Paul Cezanne, Quarry at Bibémus, 1895–1900," catalogue entry in Aimee Marcereau DeGalan, ed., French Paintings, 1600–1945: The Collections of the Nelson-Atkins Museum of Art (Kansas City: The Nelson-Atkins Museum of Art, 2021), https://doi.org/10.37764/78973.5.710.5407

MLA:

Boyle, Brigid M. "Paul Cezanne, Quarry at Bibémus, 1895–1900," catalogue entry. French Paintings, 1600–1945: The Collections of the Nelson-Atkins Museum of Art, edited by Aimee Marcereau DeGalan, The Nelson-Atkins Museum of Art, 2021. doi: 10.37764/78973.5.710.5407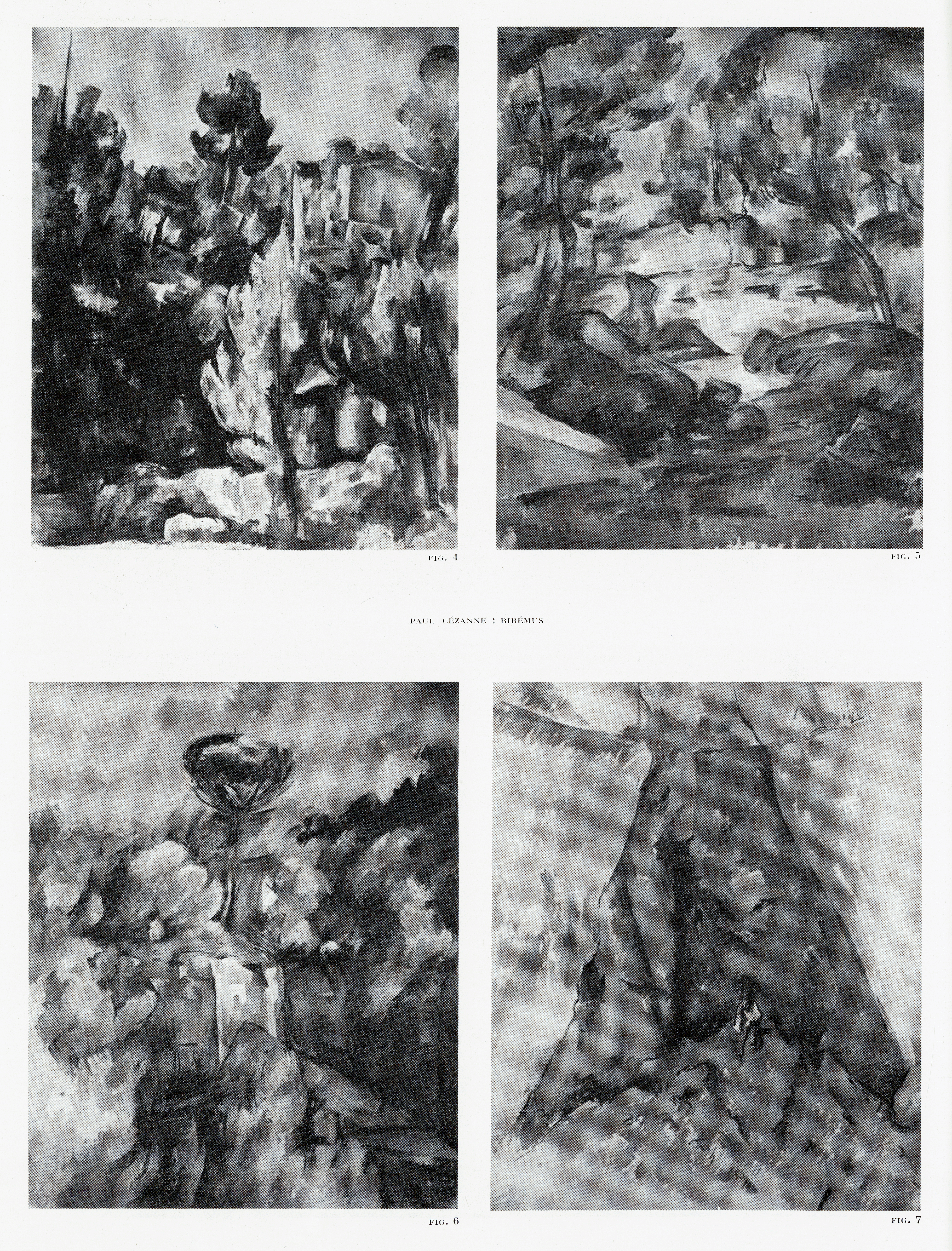 In October 1936, the short-lived Parisian journal Minotaure published an article by Lionello Venturi on the late work of Paul Cezanne (1839–1906).1Lionello Venturi, "Sur les dernières années de Cézanne," Minotaure, no. 9 (1936): 33–39. Although best known for its Surrealist-oriented content and cover art, Minotaure occasionally printed pieces on French modernism. Venturi's essay, appearing the same year as his catalogue raisonné of Cezanne's oeuvre, chronicled the artist's growing reputation from the mid-1890s onward and contained several black-and-white illustrations of lesser-known pictures.2Venturi deliberately eschewed "les œuvres les plus célèbres, qui ont été reproduites maintes fois," in favor of "des peintures et des aquarelles inédites." See Venturi, "Sur les dernières années de Cézanne," 35. A reproduction of Quarry at Bibémus figures alongside three other vertical landscape paintings, all but one of which show a defunct limestone quarry near Aix-en-Provence (Fig. 1).3The fourth painting features trees and rocks in the environs of the Château Noir, a nineteenth-century bastide (manor house) where Cezanne was a tenant from 1887 to 1902. See Trees and Rocks, ca. 1900, oil on canvas, 24 x 19 11/16 in. (61 x 50 cm), Dixon Gallery and Gardens, Memphis, TN (FWN 334). For Venturi, these works dramatized not only the perpetual clash between humanity and nature but also Cezanne's private battles:
The violence inflicted on the stone by men becomes a tragic motif. The very earth seems to struggle in the midst of torments worthy of Dante's Inferno. All of this is a pretext for Cézanne to express his inner turmoil.4Venturi, "Sur les dernières années de Cézanne," 35. "La violence exercée par les hommes sur la pierre devient un motif tragique. La terre même semble se débattre au milieu de tourments dignes de l'Enfer dantesque. Tout est prétexte pour Cézanne à extérioriser son orage intérieur." All translations are by the author.
Venturi's rhetoric of mortality and personal strife reverberates in the writings of other scholars. T. J. Clark famously characterized the view from Bibémus as "at one level a view from the tomb," a sentiment later echoed by Philip Conisbee, who compared the experience of standing before one of Cezanne's quarry paintings to "being lowered into a funeral vault."5See T. J. Clark, "Phenomenality and Materiality in Cézanne," in Tom Cohen, Barbara Cohen, J. Hillis Miller, and Andrzej Warminski, eds., Material Events: Paul de Man and the Afterlife of Theory (Minneapolis: University of Minnesota Press, 2001), 93–113, at 111; and Philip Conisbee, "Le Tholonet, Bibémus, and the Château Noir," in Philip Conisbee and Denis Coutagne, Cézanne in Provence, exh. cat. (Washington: National Gallery of Art, 2006), 190–229, at 195. Alex Danchev expanded on Clark's metaphor, describing Cezanne's quarry scenes as "an evocation of 'self-entombment.'"6Alex Danchev, Cézanne: A Life (New York: Pantheon Books, 2012), 320.
By contrast, the 2020 exhibition Cézanne: The Rock and Quarry Paintings—which reunited two of the aforementioned landscapes in Minotaure, including the Nelson-Atkins picture—investigated not the artist's allusions to death, the afterlife, or psychological anguish in his Bibémus scenes, but rather his fascination with geology.7The exhibition opened at the Princeton University Art Museum on March 7, 2020, but closed one week later due to the coronavirus pandemic. It was originally slated to travel to the Royal Academy of Arts, London, but ongoing health concerns precluded a second venue. The Princeton University Art Museum's introductory panel emphasized Cezanne's friendship with the geologist Antoine-Fortuné Marion, as well as the materiality of his oil paints. During the exhibition's opening celebration, the contemporary artist Terry Winters (b. 1949) commented to the curator, John Elderfield: "Paint is colored mud. It's really the same material as the rocks themselves."8"Cézanne: The Rock and Quarry Paintings, A Conversation with John Elderfield and Terry Winters," presented at Princeton University, McCosh Hall, March 7, 2020. Caroline I. Harris made a similar observation during a virtual panel discussion, noting that Cezanne sought to establish "a one-to-one equivalency between areas of rock and thick paint." See "Painting the Mountains: Cézanne's Rock and Quarry Canvases," hosted by the Princeton University Art Museum, April 2, 2020. This down-to-earth observation (pun intended) emblemizes a shift not simply in the scholarship on Cezanne's quarry paintings but also in art history more broadly, as scholars give greater attention to artists' raw materials.
Cezanne first explored the Bibémus quarry in his youth, accompanied by boyhood friends and classmates such as Joseph Huot.9John Elderfield, ed., Cézanne: The Rock and Quarry Paintings, exh. cat. (New Haven: Yale University Press, 2020), 103. However, he was in his fifties before he undertook the Nelson-Atkins picture and other paintings of this abandoned site. Actively excavated during Roman times, the quarry fell into disuse for several centuries, and it was not until the 1600s that local workers began extracting stone again.10Nina M. Athanassoglou-Kallmyer, Cézanne and Provence: The Painter in his Culture (Chicago: University of Chicago Press, 2003), 170–71. Quarry operations ceased once more during the 1800s, though scholars disagree on the precise date.11Athanassoglou-Kallmyer claims that the quarry was dormant by the 1830s, but Anna Swinbourne suggests that activity continued until 1885. See Athanassoglou-Kallmyer, Cézanne and Provence, 170–71; and Swinbourne, "Bibémus," in Elderfield, The Rock and Quarry Paintings, 103–6, at 103. Many still-extant buildings in Cezanne's hometown, including the Château de la Gaude and the Hôtel de Forbin, were constructed using ocher-colored stones particular to the Bibémus region.12These former private residences have since been converted into a luxury hotel and a bank, respectively. For the Château de la Gaude's construction, see Claude Frégnac, Merveilles des châteaux de Provence (Paris: Hachette, 1965), 300. Their yellowish-red facades struck the Swiss painter Henri Dobler (1863–1941) as quite distinctive: "Indeed, Aix will always stand out from other artistic cities because of the color of its stones, owing to the proximity of the Bibémus quarries."13Henri Dobler, Les écoles d'architecture et d'art décoratif des XVIIme et XVIIIme siècles à Aix, Capitale et Siège du Gouvernement de la Provence (Marseille: Editions Artistiques Véga, 1910), ix. "Aix en effet se distinguera toujours des autres villes d'Art par la couleur de ses pierres due à la proximité des carrières de Bibémus." Cezanne, too, was intrigued by their unique coloring and striations. Going straight to the source, he painted the Bibémus quarry repeatedly during the mid- to late 1890s.14Scholars continue to revise the dating of Cezanne's quarry paintings. Some historians date the Nelson-Atkins picture to 1898–1900, but others propose 1895–1900. See Walter Feilchenfeldt, Jayne Warman, and David Nash, "La Carrière de Bibémus, 1898–1900 (FWN 318)," The Paintings, Watercolors and Drawings of Paul Cezanne: An Online Catalogue Raisonné, accessed March 11, 2020, https://www.cezannecatalogue.com/catalogue/entry.php?id=814; and John Elderfield and Ariel Kline, entry for cat. nos. 16–18 in Elderfield, The Rock and Quarry Paintings, 119–25, at 119.
To facilitate his study of this landmark, Cezanne rented a nearby cabanon, or cabin, and stored his easel and other supplies there between painting sessions.15Athanassoglou-Kallmyer, Cézanne and Provence, 131. Gaining entry to the quarry was no easy feat, but its inaccessibility suited Cezanne's temperament, since he preferred to paint alone sur le motifsur le motif: French for "in front of the object." A term used for sketching or painting from life..16According to Anna Swinbourne, the quarry could be reached by coach or on foot, but both routes involved scaling steep hills. See Swinbourne, "Bibémus," 104. In Ambroise Vollard's posthumous biography of the artist, he relates a secondhand tale about Cezanne's irritation at having his solitude interrupted. As the story goes, an elderly woman settled herself in Cezanne's vicinity one afternoon and began to knit. Although she paid him little attention, her presence so annoyed Cezanne that he packed up his painting equipment and left.17Ambroise Vollard, Paul Cézanne (Paris: Galerie A. Vollard, 1914), 99. Apocryphal or not, this anecdote offers insight into not only Cezanne's preferred working method but also the quarry's unique appeal as a peaceful refuge.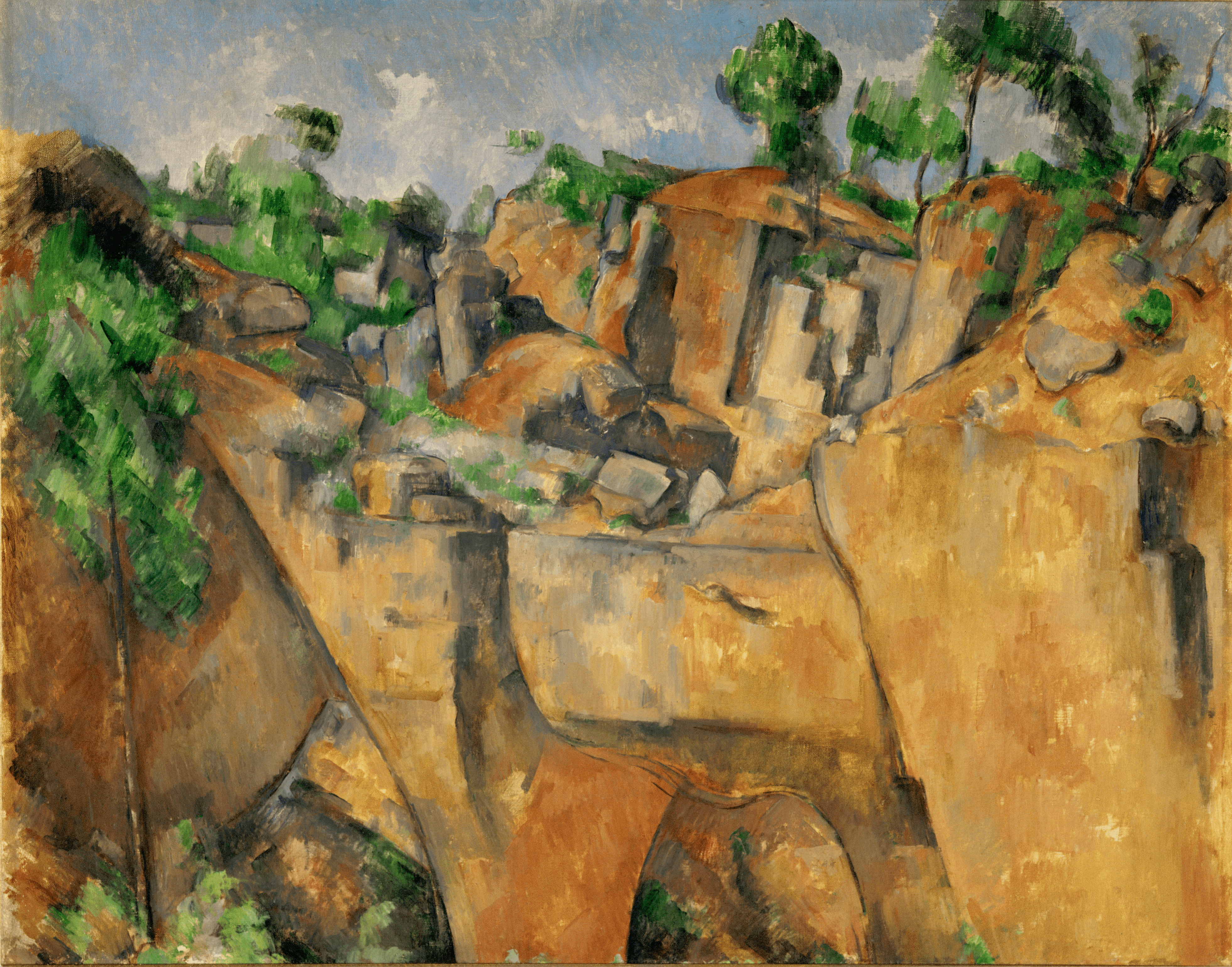 Cezanne's best-known representation of the Bibémus quarry is perhaps the version belonging to the Museum Folkwang in Essen (Fig. 2). In many ways, it is the antithesis of the Kansas City painting. Horizontally oriented and more monumental in size, the Essen canvas is dominated by a rocky escarpment that fills three-quarters of its picture space. The wall's height is amplified by its sheer cliff faces, jagged contours, and sparse undergrowth. The diminutive trees along its upper ridge seem almost to be an afterthought. By comparison, the Nelson-Atkins picture appears lush with life. Greenery surrounds the quarry wall on four sides, threatening to overtake it. An umbrella pine towers above the canopy and makes the Bibémus cliffs look oddly diminished. In fact, this tree is so essential to the composition that Vollard titled the painting Rochers rouges surmontés d'un arbre un peu parasol (Red Rocks Crowned by an Umbrella-Like Tree) in one of his stock books.18See National Gallery of Art, Gallery Archives, John Rewald Papers (RG43), Ambroise Vollard Research Files (43A5.8), box 54, folder 8, Vollard stock book A, no. 3653. Vollard's title was probably his own invention, rather than one approved by Cezanne.